Last night my buddy Jason Ferruggia arrived into Vegas. So he, Bedros, and myself went to Jean Georges Steakhouse in Aria. It's a great restaurant, but never busy, because I don't think anyone knows it is there. It's hidden up on Level 2 of Aria. The restaurants beside are always empty, too.
But...
The food is great. Big B went with the Armenian-Moscow-Mule-Pretzel-Bread approach to eating 1000 calories before dinner. The man loves his big dinners. As do I. We ordered a couple of shrimp appetizers (surprisingly, bacon-wrapped shrimp tastes good!), a tuna tartar, and some greens. Then some steaks for them while I had sea bass, and an oddly salt-crusted baked potato. Sides of spinach, brussel sprouts, and bone marrow also hit the scene...but I skipped the bone marrow.
That meal powered my morning Bodyweight Pull Session. Total reps covered for the 33,333 rep challenge were:
500 reps
225 squats
131 pushups
52 pullups
48 chinups
32 bodyweight rows
12 handstand pushups
Good times.
Here are a couple of photos from Gordon Ramsay Steak: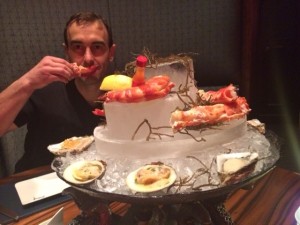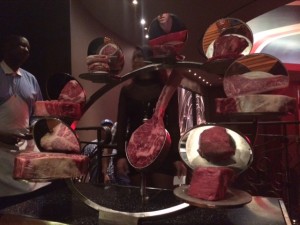 The amazing meat cart
Today's Kickbutt Mindset Tip:
You have no valid excuse for not taking action. It's time to step up and leave your comfort zone. Quit hiding. The world needs the BIG you.
Craig Ballantyne, CTT