I'll be honest, I'm a dunce when it comes to this super important component of fat burning...and that is - Cooking for Fat Loss.
I have no idea how to create metabolic, fat burning recipes. I know how to make three things in the kitchen: Blender drinks, steak, and broccoli. And I could live on this, too. But that probably doesn't sound like a plan to you.
Fortunately, there's a solution.
Now as bad as I am in the kitchen, I'm 1000x's better in the gym. And so to make up for my cooking shortcomings, I've put together this amazing pack of metabolic workouts for you to go with your new Cooking For Fat Loss plan.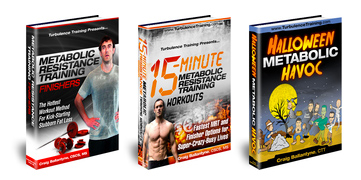 Once you have the Cooking for Fat Loss just send an email to TurbulenceTrainingHelp@gmail.com with your receipt and we'll send you immediate access to three of my BEST metabolic fat cooking workouts.
Yep, these workouts COOK UP THE FATZ.
Combined with the amazing meals you'll be making, your metabolism will be sky high, even if you've had a slow metabolism in the past.
Trust me, this combination will FIX any metabolism or fat burning problem you might have.
It's time to overcome your fat loss plateau WITHOUT starvation or cardio, and switch to the Ultimate Metabolic Burn package featuring the Cooking for Fat Loss plan and these three metabolic resistance training workouts.
Get your fat burning nutrition program here:
And then send me your receipt at TurbulenceTrainingHelp@gmail.com and we'll get you set up on the best fat burning plan today.
Get metabolic right now,

Craig Ballantyne, CTT
Certified Turbulence Trainer
PS - Get over 250 brand NEW recipes...
...in this BEST-SELLING metabolic cookbook
www.CookingForFatLoss.com <= nothing better for fat loss cookery!

And then you'll get these bonuses, too!