If you eat the wrong foods this weekend, you could gain back 3-5 pounds of the belly fat that you've lost with TT so far.
That would be a shame.

So here are 3 quick tips on how to avoid a diet disaster this weekend.
1) Start your day with a high-protein, high-fiber breakfast each morning. This will keep you full for a long time, plus, it will give you positive momentum to stick with your plan.
2) Drink Green Tea at each meal. Research shows that this keeps you full longer, and therefore you won't overeat.
3) For your big weekend cheat meal.
..choose one of the delicious fat loss recipes from
Cooking For Fat Loss
- these will taste just as great as any cheat meal, PLUS, you'll continue to lose fat with these foods.
(Heck, you should even start your day with the Chocolate Peanut Butter muffins. That's a cheat meal plus high-protein, high-fiber meal, ALL-in-ONE.)
(I know Mikey Whitfield will be hitting those pancakes hard!)
But hurry, the cookbook price more than doubles tonight at midnight.
The 250 brand new recipes will help you get super lean and sexy for summer, while still enjoying AMAZING meals.

That's priceless. (Plus, you get 3 FREE bonus workouts...see below.)
And these meals only take a few minutes each because they are SIMPLE.
And don't forget, I've put together this amazing pack of metabolic workouts for you to go with your new Cooking For Fat Loss plan.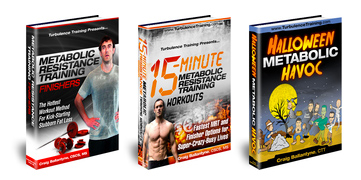 Once you have the Cooking for Fat Loss just send an email to TurbulenceTrainingHelp@gmail.com with your receipt and we'll send you immediate access to three of my BEST metabolic fat cooking workouts.
Yep, these workouts COOK UP THE FATZ.
Combined with the amazing meals you'll be making, your metabolism will be sky high, even if you've had a slow metabolism in the past.
Trust me, this combination will FIX any metabolism or fat burning problem you might have.
It's time to overcome your fat loss plateau WITHOUT starvation or cardio, and switch to the Ultimate Metabolic Burn package featuring the Cooking for Fat Loss plan and these three metabolic resistance training workouts.
Get your fat burning nutrition program here:
And then send me your receipt at TurbulenceTrainingHelp@gmail.com and we'll get you set up on the best fat burning plan today.
Get metabolic right now,

Craig Ballantyne, CTT
Certified Turbulence Trainer
PS - Get over 250 brand NEW recipes...
...in this BEST-SELLING metabolic cookbook
www.CookingForFatLoss.com <= nothing better for fat loss cookery!

And then you'll get these bonuses, too!