It was easily the toughest workout I've done all year.
And I blame it all on one woman. (Actually, I thank her for it.)
You see, this workout used something sneaky called the "M2A" scientific breakthrough that shocked my metabolism sky-high for the rest of the day.
I've tried over and over and over again to replicate the exact feeling that I got from this simple circuit, and nothing has worked.
All I did was six rounds of burpees + jump rope (you've probably watched me do this in the Home Workout Revolution program). But there was something in the way she designed the recovery periods that allowed me to work super hard while recovering just enough...it was amazing.
Now she has a new workout for YOU.
That's right, Shawna is 50 years old and ripped. She is the real deal. She's also a Certified Turbulence Trainer, so you know her workouts are legit - in fact, TT-approved. She was even part of my film crew for the upcoming new TT 2.0 system.
She'll even be at the TT Summit, and hopefully we can have her lead an "M2A" bootcamp workout and kick our butts.
Until then, save over 50% off her new follow-along, 20-minute fat loss challenge workouts that work faster than any cardio program or DVD set you can buy off TV.
And if that's not enough to get you moving, I'm adding in a Hardcore Workout bonus of my own. When you get Shawna's program, I'll give you these three TT workouts: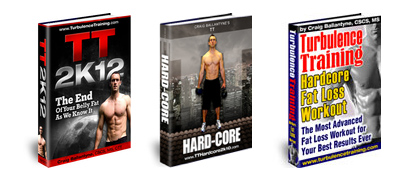 But hurry, you only get the rapid results 48-hour fat loss challenge diet program as a fast action bonus TODAY.
Then get ready to get extreme fat burning results from one of the top Turbulence Trainers in the world.
Get lean and ripped at any age,

Craig Ballantyne, CTT
Certified Turbulence Trainer
PS - Shawna is living proof...
...that men and women of any age can get lean and ripped.
She's 50 and sexy with curves in all the right spots, and you'll love training alongside her in these short workouts.
And read her article about this incredible NEW fat burning secret...
NEW Scientific Breakthrough Called "M2A" Shocks Your SLOW Metabolism Into Maximum Fat Burning Mode in 20 Minutes or Less

Discover this Extreme Fat Loss Secret Known Only by a World Renowned Fitness Authority, Bodybuilding Champion and Two Time Winner of the "Toughest Calgarian Alive" Competition