Alright, I can either look at today as a pain in the butt, or I can turn that frown upside down and look at today as a Craiggy's Big Adventure.
It started with writing and work.
Then an early leg workout in the garage.
Then a dog walk.
Now breakfast and a 2 hour drive to Toronto.
Then errands.
Then phone calls at the airport.
Then an overnight flight to London.
Then a train ride into the city while in that overnight-flight brain fog.
Then waiting to get booked into hotel.
Then hotel!
Then Bedros and family.
Then a mastermind.
Then Scotland.
And so on.
So obviously, this is an adventure!
Today's Workout:
1A) Goblet Squat
1B) DB RDL
1C) Ab Wheel
1D) 1-Arm KB Overhead Press
4 rounds.
Meanwhile, ETR went full-pancakes today: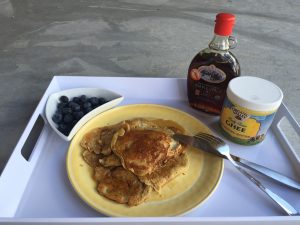 Pancakes are an "anytime" favorite – fluffy griddle cakes topped with all kinds of sweet and savory goodies. But all too often these beloved…
Good times!

Today's Kickbutt Mindset Tip:
Success all starts with making the right choices, right now, for your right life. Don't give in to every easy option that comes your way. Be prepared to step out of your comfort zone & make the sacrifices.
Time to practice what I preach,
Craig Ballantyne, CTT
PS - Adventure time!