The #1 mistake I've made when creating my workout programs has been NOT making them hard enough for you. I underestimated your commitment. But you've told me you want to gain muscle and lose fat at the same time, and you want my BEST fat burning, sexy-body-building workouts.
So that's what you'll get. I've teamed up with John Romaniello to bring you Clash of the Titans V - my most advanced workout that will help you gain muscle and lose fat at the same time. And you will get it as a FREE bonus when you get Roman's NEW program that will also help you gain muscle and lose fat at the same time. Grab it during his birthday sale here:
When you get Roman's program, just send an email to Lesa and she'll send you the advanced workout bonuses that I created for hard-core calorie burning and building a lean, sexy, movie star body.
Email your receipt to Lesa here and she'll email you the bonus programs:
TurbulenceTrainingHelp@gmail.com

Research from Purdue University, published back in 2007, proved that men and women of all ages can lose fat and gain lean muscle at the same time.
In that study, men and women with an average age of 62 years old did three circuit workouts per week for 12 weeks. They lost 4 pounds of fat and gained 4 pounds of lean mass. And that was with a 'crappy' workout that didn't change, and the subjects did NOT change their diet. So just imagine what a program from fitness superstar John Romaniello can do for you.
And if that's not enough, I'm actually giving you THREE bonus workouts that also help you build muscle and lose fat at the same time.
When you send Lesa your receipt for Roman's workout, she'll send you a special download link that gives you access to:
1) TT Clash of the Titans II
2) TT Clash of the Titans III
3) TT Clash of the Titans V: Grudge Match <= brand new!

Train hard and get amazing results,
Craig Ballantyne, CTT
Certified Turbulence Trainer
PS -Here are the amazing results...
...for one of Roman's clients...sexy, super-hero results. So his program, and my special bonus workout - Clash of the Titans V - work for BOTH men and women to get amazing bodies.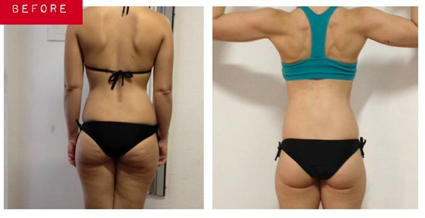 PPS - Tomorrow...Scarlett Johanssen's diet and workouts revealed!
Tomorrow I have a surprising look at two famous superhero workouts...that is, the workout programs performed by the human actors that had superhero physiques for the movies. I'll show you exactly what they did and how you can achieve the same results to get superhero sexy for summer.